Not long ago, there was a clear distinction between online and offline retailers. Online sites like Amazon were considered the inevitable next stage in the evolution of holiday shopping—if only because they promised a way to buy stress-free, without the insane crowds and the seasonal crush. 
Now past assumptions about the future of retail seem simplistic. Consumers want both mediums, and the smart retail brands have already interconnected their online and offline offerings. Major superstores have expanded their presence beyond just the physical store. The results are evidenced in data from a recent press release via Comscore.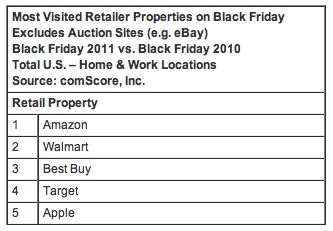 Walmart, Best Buy and Target - companies that built their brands on their retail presence - are now leaders in the online holiday shopping market. 
This is a teaching moment for companies that define themselves as mobile or social. It's not the Consumer who's stuck in the mindset that a brand has to live in a particular medium. Buyers don't silo brands to a medium. Businesses do. 
Ely Rosenstock - Director of Social Media